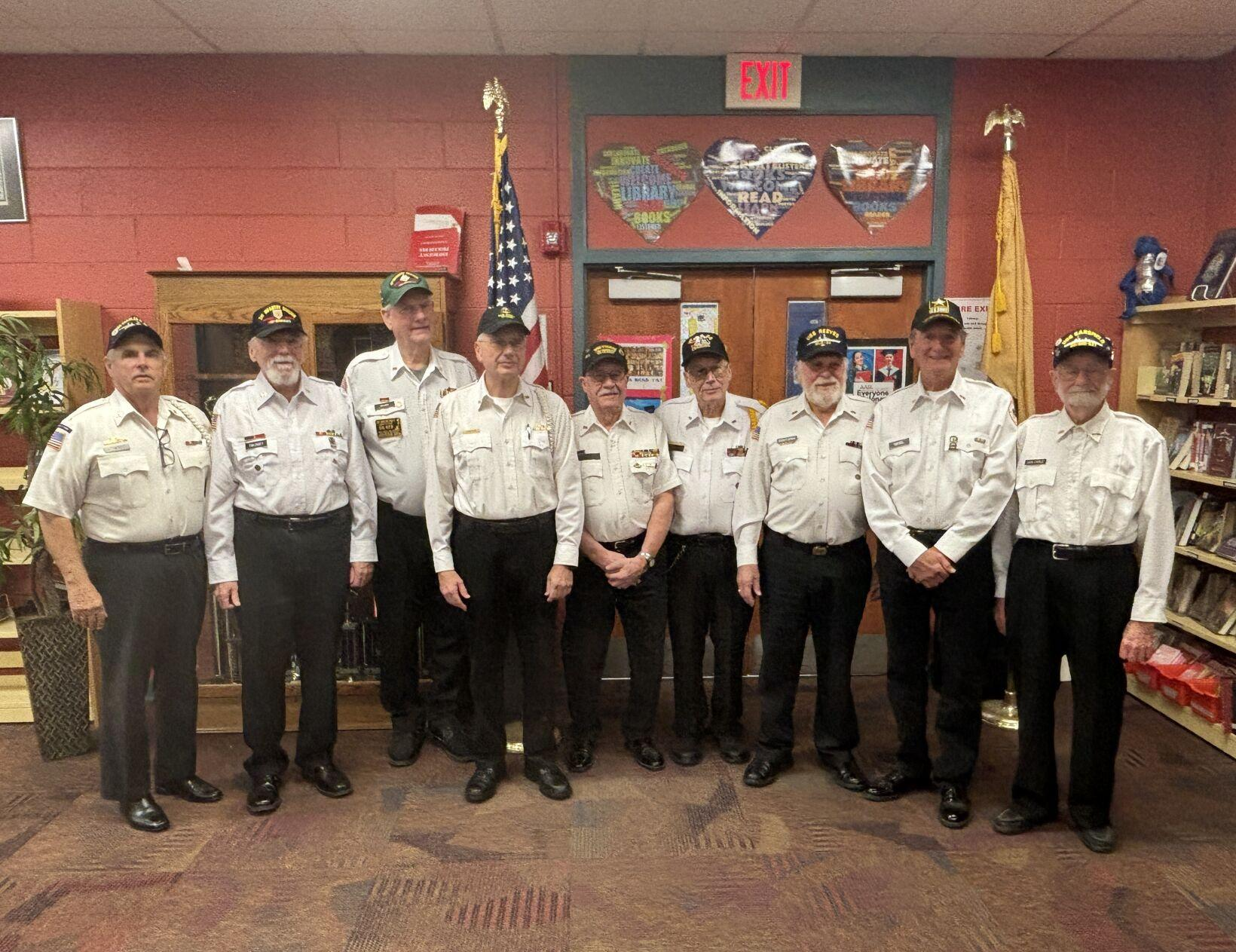 Members of the American Veterans Association Washington Township Post 1776 talked to students in Long Valley Middle School on Monday, Nov. 6 at the schools Media Center. From left are Larry Oppel, Ed Twomey, Tom Holden, John Krayniak, Charlie Dauchert, Commander Thomas McBride, John Larkin, John Groel and Don Cable. Brian McGuire is not pictured.
 WASHINGTON TWP. – Members of the American Veterans Association of Washington Township have grown accustomed to visiting the elementary schools around Veterans Day during the past few years.
However, their trip to the Long Valley Middle School on Monday, Nov. 6 provided a bit of a twist.
Veterans and 1776 Post members Larry Oppel, Charlie Dauchet, Thomas McBride, Thomas Holden, John Krayniak, Ed Twomey, John Larkin, John Groel, Brian McGuire and Don Cable attended the event that was neither a flag raising ceremony nor a lengthy assembly at the school.
The 10 veterans spent about an hour having refreshments in the school's media center and talking to the students face to face as they came up and asked them questions about their service.
After eighth grader Jocelyn Kulczyckyj sang the national anthem, the veterans also watched a video the students helped put together in which they talked about what freedom and sacrifice means and what is the best part of being an American. They also thanked the veterans for their service.
There was also a Wall of Heroes displayed where the students showed off family members past and present who were members of the armed forces.
"This was a very moving event,'' veteran John Groel said. "We love to talk to the kids and get their opinion and their feeling on what they think of the military because you never know today with kids.''
Groel, who was in the Army reserves, also spent some time visiting his grandchildren Caitlyn and John Andolina and grandson Ryan Groel who attend the Middle School.
"I think it is a great idea that the schools instill that into the kids to make them realize what sacrifices everybody has made for what they have today,'' Groel said.
Overall, it is a busy week for the veterans, leading up to Veterans Day which is celebrated on Saturday, Nov. 11. On Friday, Nov. 3, members were involved in a flag raising and a small assembly at Old Farmers Road School. On Tuesday, Nov. 7 they took part in flag raising ceremonies at the Benedict. A Cucinella School along with an assembly.
On Wednesday, Nov. 8 they had a similar morning talking to kids at Flocktown-Kossmann and Thursday, Nov. 9 the post held its own breakfast and meeting at the Valley Restaurant in Long Valley. Veterans Day itself on Nov. 11 is reserved for rest and reflection.
It is the first time in recent memory that the Long Valley Middle School (LVMS) has held an event with the veterans in the fall. They often have them in around May in an assembly near Memorial Day.
"Our Social Studies Department at LVMS, all grade levels, came together and discussed various ideas and ways that we can honor the veterans and also tried to make it a little bit different," said eighth grade Social Studies teacher Rachel Thomas. "I know the other schools do the flag raising, which is a beautiful ceremony as well. Instead of doing that we just decided to incorporate some new ideas.''
The four-minute video showed students answering questions such as what does freedom mean to you or what does sacrifice mean?
The Wall of Honor made of cardboard and paper and including photographs was a way of connecting the visiting veterans to members of the students' families that made similar sacrifices. The wall included names, pictures and years of service of students relatives who served in the armed forces.
"The video the kids made was wonderful,'' Navy veteran John Larkin said. "It was nice to see the wall. It brings the other kids parents into it and it puts it into perspective.''
Larkin, who served in the Navy from 1962 to 1966, enjoyed the opportunity to talk to the students and the informality of the gathering in general.
"They asked a little bit of everything,'' Larkin said. "What service were you in? Were you scared? How long were you at sea? Oh, you could go on land once in a while? Those kinds of questions. It was a lot of fun. Typical questions most of the kids have anywhere you go.
"It was totally informal which really made it wonderful. The kids talked to you and you could talk to the kids one-on-one. It made a lovely day for us.''
Long Valley Middle School Principal Mark Ippolito thought the event benefited the students and said seeing some of the veterans come to visit also re-enforced a feeling of community for him.
"Several gentlemen who were here, were my coaches when I was a kid,'' Ippolito said. "It was a real community event. Mr. (Chuck) Dauchert was one of my Little League coaches. I played soccer with Mr. (Ed) Twomey's son. Mr. (John) Groel was my neighbor for a lot of years. It's a unique thing for this community.''
When asked the veterans agreed. They enjoyed the event and a sense of service as a connection within the community is something worth recognizing and celebrating.
"It's important,'' veteran John Krayniak said. "Especially the service to your country. I believe that if you have service to your country, you come back and you have that feeling of service to your community. I think that benefits us overall.''